Message from the President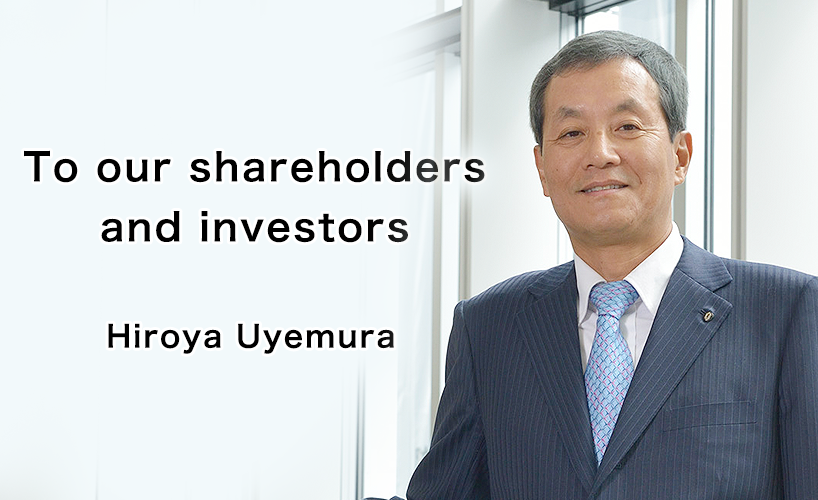 Thank you for your continued support of Uyemura.
I would now like to make a few comments about our operating environment before reporting on Uyemura's results for the first half of the 94th fiscal term (April 1, 2021 – September 30, 2021).
Restrictions on economic activities due to the extended state of emergency, sluggish production caused by the semiconductor shortage and other issues held down the Japanese economy during the first half of the fiscal year ending on March 31, 2022. In addition, the United States is retaining its hardline stance against China even after the election of a new president, indicating that uncertainty about the U.S.-China relationship is unlikely to end soon. In Japan, the outlook for the economy is improving as consumer spending increases due to progress with vaccinations and exports climb along with the economic recoveries in other countries.
In the electronic device market, which is the Uyemura Group's main market area, the production of automobiles and other products was affected by the shortage of semiconductors although the semiconductor production continued for the supply-demand balance to improve. The demand for electronic devices is continuing to grow in part because of demand fueled by handsets and base stations for fifth generation mobile communications.
In the first half of the fiscal year, sales and earnings were higher than one year earlier despite the negative effects of the pandemic. The main reason was the growth of sales in the surface finishing materials business to meet the strong demand for these materials due to the high level of production in the semiconductor industry to end the shortage of chips.
The outlook for the global economy is likely to remain unclear. However, I believe we can expect to see a recovery as economic activity resumes in stages as the impact of the pandemic declines.
I think demand for electronic devices will remain firm. The launch of fifth generation mobile communications, which is fueling replacement demand for smartphones, the expansion of the IoT and other trends that are fueling demand for electronic components.
In the car electronics sector, I expect more growth in the use of electronic devices in automobiles for driving assistance systems, which provide more safety and convenience, and for reducing the environmental impact of cars.
To achieve our goal of consistent growth in the 21st century, we will continue to use the collective strengths of our group for building a framework that can quickly adapt to changes in our business climate. We must be prepared to act with flexibility to unexpected events too. Accomplishing our goal will also require placing priority on innovation at the factory level to become even more competitive.
We ask for your continued support. Thank you.
November 2021