Central Research Laboratory
If we add together all our engineering and machine design staff, nearly half of all the employees of Uyemura are engaged in development and engineering support work. The aim is for the research laboratory to provide a space where those many employees can come together and new discussions and free thinking will occur, to lead to the creation of new value and the advancement of our technological strength.
The laboratory contributes to the further advancement of plating technology as a world-leading academic research institution that combines the research abilities and technical abilities created from free thinking with the experimental facilities necessary to make high level research and development possible. It also provides a unique service to our customers.
Facilities for experiments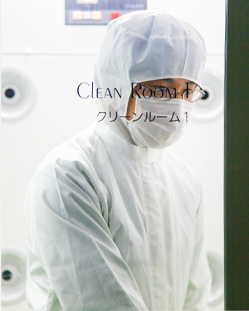 In addition to normal line laboratories, we have ample laboratories for each separate development department. This includes four line laboratories in a cleanroom environment, two rooms for the trial production of sample liquids and laboratories for joint experiments with customers.
We also have another research building which is equipped with the latest types of plating equipment and maintain around 250 individual analytical instruments, including FIB, SEM and AES. We put full effort into new chemical development and the solution of problems for customer support.
Example analysis equipment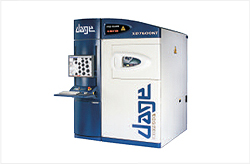 X-ray CT: XD7600NT Diamond-CT made by Nordson Advanced Technology Japan K.K.
The advancement of X-ray inspection technology has been remarkable and the improvements in resolution have been astonishing. In the past, checks of voids and seams have been difficult and time-consuming with conventional destructive testing. However, using this high grade equipment makes it possible to perform these checks rapidly and also non-destructively.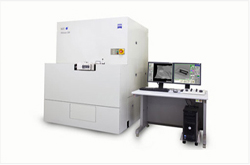 FIB/FE-SEM: XVision210B made by Hitachi High-Technologies Corporation
This is equipment of the highest level in the world. It combines FIB and FE-SEM, both of which continue to show remarkable progress. The use of this equipment makes it possible to observe SEM images without needing to remove the sample from its housing. Furthermore, the use of the attached EDS has also made it possible to perform more detailed elemental analysis.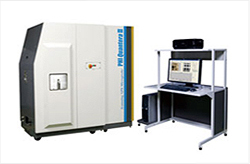 ESCA/XPS: PHI Quantera Ⅱmade by ULVAC-PHI, Inc
This is equipment that can obtain data on the composition and chemical bonding state of a surface by irradiating a sample with X-rays and measuring the energy of the photoelectrons emitted from its surface. This highest level equipment is used for customer support and new product development.
Example plating equipment
We have a range of plating equipment prepared to fit any requirements, including general purpose plating equipment, plating equipment for PWBs using our latest original technologies and plating equipment for small components that performs the plating with unique methods.
Integrated computer control system

System for PWBs of new method

Plating equipment for small parts
Concept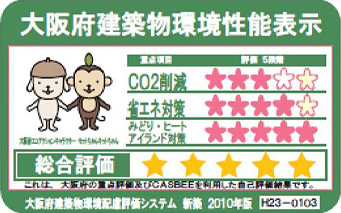 We realize high environmental quality with disaster resistant structures.
1. Symbol labo (Creation of Uyemura brand)

Lasting design with grace as the face of Uyemura for the world

2. Amenity labo (Activation of research laboratory)

Creation of research environment that induces discussion and communication beyond research groups

3. Green labo (Efforts for coexistence with environment)

Realization of facilities with thorough energy and resource saving using the natural blessings of light, wind, and greenery
Awards received
Technical Report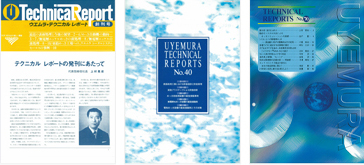 This was first published in 1983 as a result of our desire to be of use to the customers and our motto to "Pursue the requirements of the customers and respond to them." It offers a wide range of the latest information related to surface treatments.
R&D Bases at Overseas Subsidiaries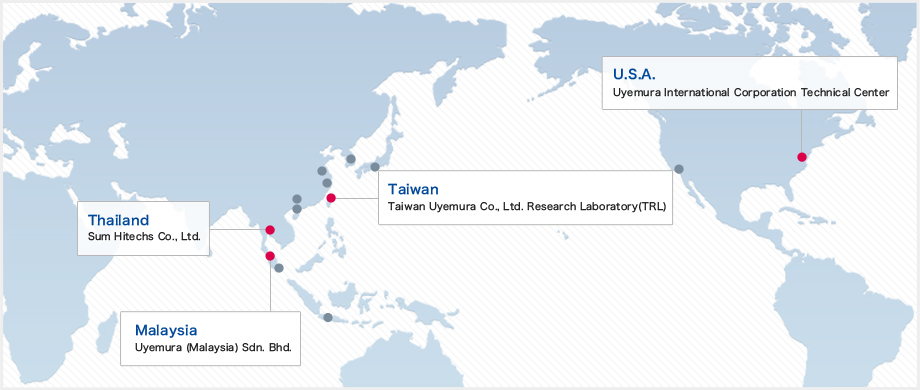 With the Central Research Laboratory in Japan as a central base, we also have research institutions in the U.S.A., Taiwan, Malaysia and Thailand and are promoting our research and development globally.
As a technology-intensive company, we not only work to improve our research and development departments through their human resources, but also through many other aspects such as their equipment, environment and information. This has resulted in them attracting ever more attention from global-standard companies. From now onwards, we will continue to strive for the further improvement of the UYEMURA brand.
U.S.A.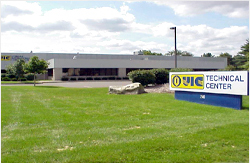 Uyemura International Corporation Technical Center
We opened the Technical Center in the State of Connecticut, U.S.A., in 1998.
The Center has presented numerous research results at academic meetings attended by world-leading companies and engineers and it has been evaluated very favorably in various sectors. It is also playing an important role as a point of contact with global IT companies.
Taiwan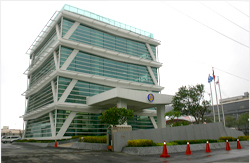 Taiwan Uyemura Co., Ltd. Research Laboratory (TRL)
This was established in 2005 with the objective of applying the requirements of the actual workplaces to research. It performs original product development to support the advanced companies of Taiwan and the ratio of technical employees exceeds 30%.
In recent years, it has put great effort into the development of advanced semiconductor related products. The development includes machinery in addition to chemicals and the laboratory produces mechanical equipment and evaluates plating prototypes.
The laboratory continues to advance with the aim of becoming a model all-round company in the Uyemura Group.
Malaysia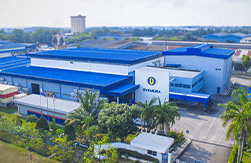 Uyemura (Malaysia) Sdn. Bhd.
This develops and manufactures surface treatment related products that are in high demand, particularly in the Southeast Asia region (ASEAN).
The range of the company's activities is steadily expanding. In addition to research and development on environmentally friendly chrome plating that is being implemented jointly with a university, it also works together on business with the Uyemura (Shenzhen) Co., Ltd., making maximum use of the strengths of each party.
Thailand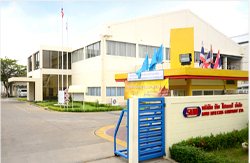 Sum Hitechs Co., Ltd.
This was established in 1987 for the molding, coating and plating process of plastic components for automobiles and household electrical products. In addition to decorative plating, it also performs plating processing on printed circuit boards.
After the starting of chemical manufacturing, a system has been developed to collect the information feedback from the work sites and accumulate it as expertise. This is being used to strengthen the support structures to solve various different issues.