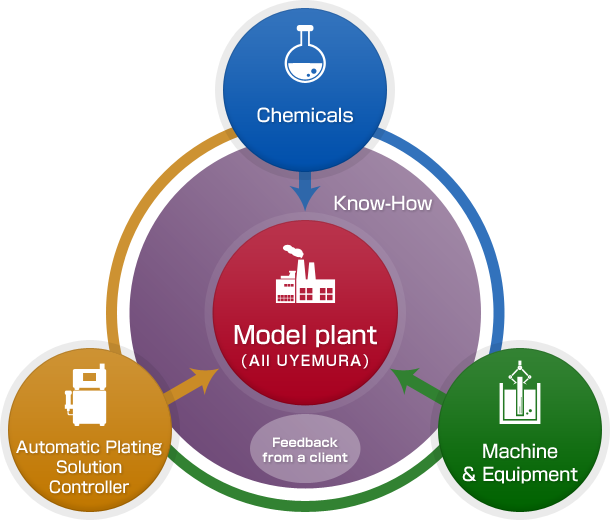 Leave everything to UYEMURA.
The sense of trust customers have gained in UYEMURA has been
nurtured by our integrated organizational capabilities and know-how.
The work involved in the field of surface treatment can be split into three main categories : chemical processes, mechanical systems, and chemical control systems. At UYEMURA we are involved in all three aspects of these categories, which makes us unique. Covering all aspects of the field means that we accept full responsibility for providing the total system solutions demanded by our clients. It is quite difficult to solve problems if one is only involved in just the chemical processes or mechanical systems. With our total systems approach UYEMURA is well positioned to address these problems, and the trust that has been placed in us by our clients has provided the motivating power to advance our technological advancement steadily forward over the course of many years.
It has been said that having our own plating factory for performing the actual finishing process for surface treatment within the group makes us unique in the industry. For us at UYEMURA, however, this is quite natural as we wish to make sure that the products and services that we provide our clients have been finished to perfection "in our own factory with our own hands". We also provide full support from inspecting localities through to factory planning for customers who are intending to move operations overseas. It is this attention to detail that ensures that the level of services we provide cannot be duplicated by other companies.

UYEMURA's plating products provide solutions to a variety of problems
and obstacles encountered by corporations during various stages of product development.
We are the world's first company in the plating industry in the world that set up a dedicated research laboratory, our Central Research Laboratory, in 1968. Our business activities include development, manufacture and sale of chemicals for printed circuit boards, plating chemicals for semi-conductors, and underplating chemicals for hard disks.
Our chemical development is unique in that we develop and manufacture platings of composite features such as water repellency or non-viscosity.
In addition, we develop and manufacture chemicals in foreign countries. In Taiwan, we have a research laboratory and conduct R&D of plating chemicals for electronic components. In Malaysia, we develop genera-purpose plating chemicals jointly with local university. In Suzhou, our local site provides support to customers as our strategic site in China where Japanese, European and American companies aggressively vie for expansion and survival.
Flexible substrate

Wafer

Hard disk

Peace of mind and reliability born from many years of experience. Response to various needs.The mechanical equipment capabilities and control systems at UYEMURA offer a total process solution to our customers.
We develop, manufacture and sell plating equipment by ourselves. Our product line covers a variety of types of plating equipment that meet varying customer needs, including plating equipment for general-purpose plating needs, plating equipment for printed circuit boards using our own advanced technology, and plating equipment dedicated to small items using a unique plating technique.
We run machine plants not only in Japan (set up in 1960) but also in Shenzhen (set up in 1988) and Taiwan (a plant centering on production of semi-conductor plating equipment set up in 2013), which allow us to provide fine-tuned services to our customers including cost, delivery date and support.
Hoist type plating system

Integrated computer control system

System for PWBs of new method

Plating equipment for small parts

Uyemura develops, manufactures and sells plating solution control equipment based on the expertise accumulated by the people on the work floor.
One of the important issues on plating is management of plating solution.
The more the plating solution is used, the greater the state of solution changes. Eventually, it becomes impossible to maintain the appropriate level of quality of the plating due to a reduction in metal content in the solution, changes in concentration of additives, or mixture of impurities into the solution, and it can resultantly increase the defect ratio and, in a worst case, make plating impossible to continue.
It is therefore necessary to understand the condition of plating solution and take appropriate actions, such as refilling of insufficient substances or replacement of solutions.
The plating solution management equipment is designed to always analyze the condition of the plating solution and promote refilling of chemicals or replacement of solutions as required.
It is an indispensable tool for high-quality plating.
STARLiNE-DASH 4

CHEMiROBO 3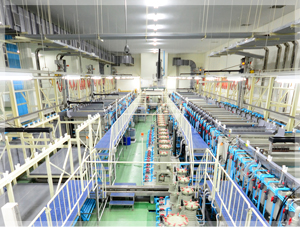 Until you run through the proposed production line, you can never determine if it is going to actually work.
Our unique in-house technology, experience, and ideas are providing new approaches to overcome this situation.
Uyemura develops, manufactures, and sells plating chemicals, plating equipment, and solution management equipment by ourselves. It is only Uyemura that can do all of these.
Utilizing all these capabilities, Uyemura carries out actual plating using our own chemicals,equipment and solution management equipment at our model plant (all Uyemura).
Every information is fed back from the plant, accumulated as valuable knowhow, and utilized in our development of new chemicals, equipment and solution management equipment.
The strength of UYEMURA comes from this model plant.
* Click each of the following companies for detailed information.
Plating job company of UYEMURA Group(Model plant)